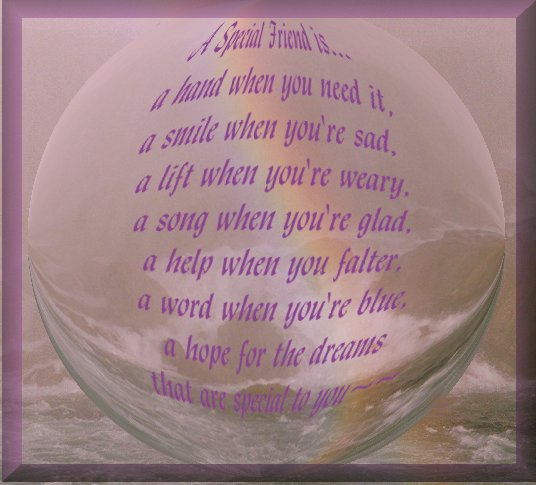 The beautiful graphic above was made for me by the friend to whom this page is dedicated. While she made it for me, I could just as easily have made it for her. It is even truer with respect to her friendship with me.

This wonderful lady has had what could only be called the year from hell: the death of her father, uncle and several friends; an automobile accident, the destruction of her own home, personal problems, family injuries and accidents. Yet through it all, she has always been here for me. An ear to listen. A shoulder to cry on. Someone I could call any time of the day or night.

Her strength and spirit are truly an inspiration for me. Despite what she has gone through, she is always willing at the drop of a hat to give a friend a ride, take them over a home-cooked meal, run them to the store or the doctor. She has an infectious laugh that can make you smile despite yourself. A sense of humor that has gotten her (and me) through some very rough spots. She can't be mean to people, even those who have hurt her terribly. She does not judge me or anyone else. I trust her implicitly and that is not something that you find in too many people. And I know she's gonna be embarrassed that I'm saying all this stuff for the whole world to see, but damn it, she deserves some public recognition for all she has done for everyone else. And especially for me.

So, Mol, I made this page for you. To thank you for everything you've done for me. And hopefully, to bring a smile to your face even if just for a minute or two. You know where to reach me. You know I'll always be here for you as you have been here for me. God certainly knew what s/he was doing when s/he sent you into my life.

Thank you, my friend.