Welcome to The Rainbow's End Press homepage of free backgrounds, buttons and bars. I've created matching sets complete w/buttons and bars. If you want to use a set, PLEASE DOWNLOAD IT TO YOUR COMPUTER AND DO NOT LINK IT BACK TO THIS SITE!!! Graphics may change location and if you link it here, you run the risk of not having the graphic show up on your home page.
These graphics are free for use on PERSONAL HOME PAGES. If you'd like to use them on a business page or you want something custom created for your business, email me and I'll see what we can do. If you purchase a set, you will be given the copyright to that set for exclusive use on your website from the date you purchase the graphic set. The set will be removed from this site but anyone who chose to use it before it was purchased is still free to do so without compensation to the purchaser.
In the hopes of making it easy for you, I have followed the following pattern when creating the sets. The background and the buttons all have the same "root" name. For example, this background file is named rbovl.gif. The buttons and the bar all begin with rbovl. There is a button for "back", "email", "home" and "next" and all you need do is add the complete word to the "root" word, keep the same file type and you have the button file names. I have also included a blank button in case you want to create something other than the four choices I have provided. Each of these blanks has the letters "btn" after the "root" word. So the blank button for this set is named rbovlbtn.gif. Bars have the word "bar" added to the "root" word. Got it?
I have also included font style, size and color that I used in creating the buttons so that you can hopefully match close enough that no one will notice. Of course, you can also use a completely different font and create a whole new set of buttons on your own. There are a few that I'm not sure of since I didn't start keeping track until after I'd already created a few sets. I think I'm getting a bit better at this and I'm sure you'll be able to tell which were some of my first efforts. ;-) (BTW, I used PaintShop Pro to make all of these sets.)
If you do not have the font style I indicate, you can download it as a .zip file by clicking on the font name. You'll need some program like WinZip to unzip the file.
The buttons in each set are functional and will link you to either my email, the main page or the page before or after the one you're reading now.
If you take a background set (or even part of a set) from these pages, please use one of the following buttons to link back to this site. Please use the following URL: http://rainbowsendpress.com/rep/tn/index.html
Thanks!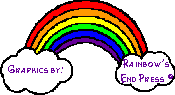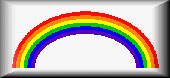 The button set used on this page uses the font called Bimini. The color used was "#5a00b5" and the size was 18.